Elevate Long Beach Apartments
Elevate Long Beach Apartments in Long Beach, California is where you'll find comfort living at its finest. This community stands out far above the rest with stunning amenities, both in the home as well as throughout the community. You don't want to miss out on calling this home so be sure to schedule a tour today.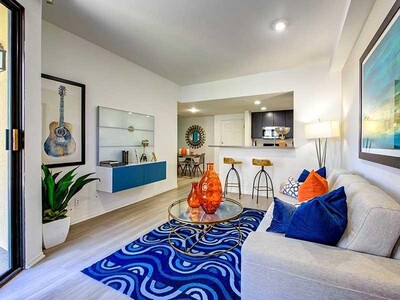 Amenities
Besides the amazing location of Elevate Long Beach Apartments, there are so many other reasons to choose this amazing community. These great pet-friendly apartments come in three spacious options: studio, one, and two bedrooms to fit all your needs. Here you'll find fully-equipped kitchens with stainless steel appliances, granite countertops as well as gas range, garbage disposal, and dishwasher. When you live here you'll also have high ceilings, a private patio/balcony, and wood-style flooring. Plus so much more.
If you're looking for community amenities, then this is the perfect place for you. This controlled access parking and gated garage parking community also has a laundry facility onsite, as well as a recycling center and electric vehicle charging stations. You'll also have access to the year-round heated swimming pool and spa/hot tub. Along with so much more you don't want to miss out on.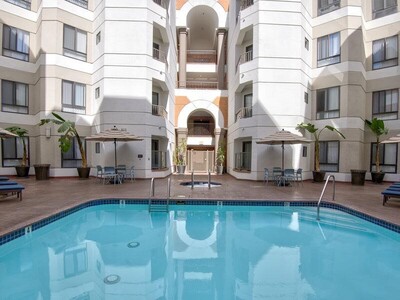 Neighborhood
Elevate Long Beach is located in a thriving community full of plenty of things to do. Whether you're looking to get some shopping in at one of the many shops nearby or spend the day exploring, you'll find there is so much to offer. Stop in at the Museum of Latin American Art or head to the Aquarium of the Pacific. And no matter what you decide to do, be sure to stop in at Islands Restaurant Long Beach Pike for a delicious burger.
If you're looking for a new place to live, or are interested in moving to the gorgeous state of California, find your next dream apartment here. While on your search for the best apartments, be sure to check out, some of the most affordable places to live in California.
Elevate Long Beach
Come home to Elevate Long Beach! Here, you'll discover the meaning of elegant living. Here at our Downtown Long Beach apartments, you'll discover what makes our beachside community stand out from the rest. Our pet-friendly apartments for rent in Long Beach feature 1, 2, and 3 bedroom units for you to choose what best fits your lifestyle. Enjoy the convenience of our luxury apartment features, such as fully-equipped kitchens, walk-in closets, central air, private balconies, and high-speed internet access. Our beautiful community amenities give you everything you need to live comfortably—including a resort-style pool, fitness center, spa/sauna, coffee lounge, laundry services, and more! Living at our apartments in Long Beach places you just moments away from PCH and the 710 freeway, giving you quick access to all SoCal has to offer. Book your tour of Elevate Long Beach Apartments today! test
About
Studio, 1, & 2 Bedroom
Address
225 W 3rd Street
Long Beach, California, 90802
Contact
(855) 481-6314
amc_elevatelongbeach_propertywebsite@leads.anyonehome.com
Floorplan
SQ Feet
Bed/Bath
Price
st1
450
0 Bed
1 Bath
Contact Us for More Details
See Website
st2
463
0 Bed
1 Bath
Contact Us for More Details
See Website
st3
499
0 Bed
1 Bath
Contact Us for More Details
See Website
11a
588
1 Bed
1 Bath
Contact Us for More Details
See Website
11b
613
1 Bed
1 Bath
Contact Us for More Details
See Website
22a
890
2 Bed
2 Bath
Contact Us for More Details
See Website
22b
954
2 Bed
2 Bath
Contact Us for More Details
See Website
22cr
973
2 Bed
2 Bath
Contact Us for More Details
See Website
st2r
463
0 Bed
1 Bath
Contact Us for More Details
See Website
11ar
588
1 Bed
1 Bath
Contact Us for More Details
See Website
11br
613
1 Bed
1 Bath
Contact Us for More Details
See Website
22ar
890
2 Bed
2 Bath
Contact Us for More Details
See Website
22br
954
2 Bed
2 Bath
Contact Us for More Details
See Website
See Website