Panomar Apartments
Panomar Apartments in Alameda, California offers gorgeous island views from your backyard. Additionally, this stunning complex is set in a stunning neighborhood packed full of amazing things to do. Whether you're looking to go out for dinner or have a fun day exploring you'll be able to do it all minutes away from the stunning Panomar Apartments.
While checking out these amazing things to do in the neighborhood, be sure to head on over to our post about what else the Panomar Apartments has to offer.
Dining
If you're looking for a great place to get a meal, then be sure to try some of these delicious restaurants. Not only are they guaranteed to be a good meal, they're also not far from home.
Scolari's Good Eats for a delicious hamburger
Ceron Kitchen for a fine dining experience of New American
1400 Bar and Grill for yummy pizza
Pasta Pelican Restaurant for a great pasta dish
Entertainment
When you're looking for a fun adventure, without having to look too far from home, you'll find there is plenty to do. Try one of these options for a full day of fun.
Alameda Museum to explore Alameda history
High Scores Arcade Museum, an interactive museum of classic arcade games
MGH Discovered Art for the Original Vintage American Art Collection
3Dot Art Gallery of artists from the Bay Area
Shopping
Of course, you're going to need to go shopping at some point. And with all these places so close to the complex, they're perfect for stopping in on the way home from work.
Alameda Natural Grocery
Dan's Fresh Produce
Farmstead Cheeses & Wines
Webster Square Shopping Center
Outdoor Activities
When you have a day off, but aren't sure what to do, check out one of these amazing things to do. You definitely won't be disappointed by the fun activities we've listed here.
Stacked Adventures for renting kayaking and camping gear in the Bay Area
Tidewater Boating Center for a unique paddling opportunity
Elsie Roemer Bird Sanctuary to see salt marsh habitat
Lincoln Square Park for a fun park to spend the afternoon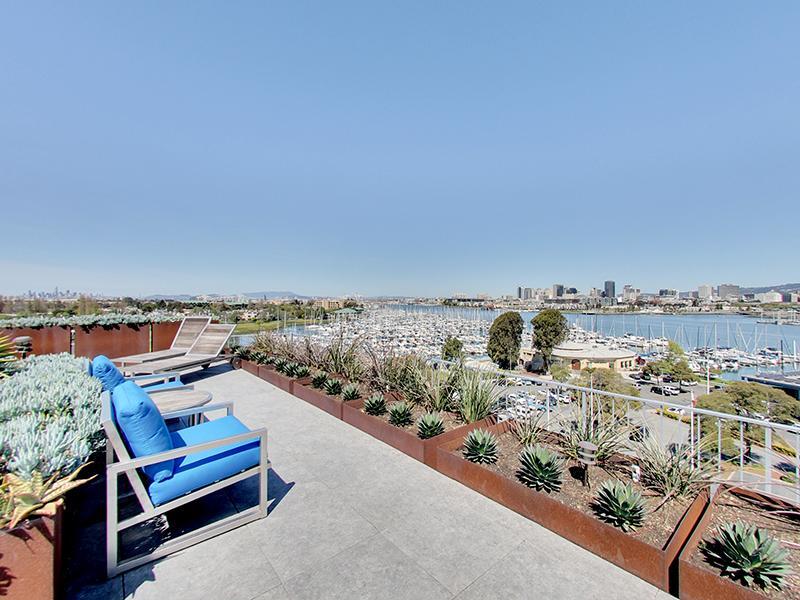 But if you'd like more information about this apartment complex and others like it from around the state, head over to our page. In addition, if you're looking for more reasons to move to the California area check out our post on the three most affordable places to live in California.
Panomar
Come home to the coastal city you've been waiting for at a dream location. Nestled at 1100 Pacific Marina, Panomar Apartments in Alameda, CA, is where home becomes your favorite destination. Here, you can take in the stunning bay scenery while living in a prime luxurious space. Our Alameda apartments for rent give you proximity to many endless local attractions. With quick access to everything in Oakland, you'll be able to discover the entire world at your fingertips. Enjoy exploring local attractions such as Crab Cove Visitor Center, Crown Memorial State Beach, Pier 39, Golden Gate Park, and more. Embrace top local restaurants, modern art, outdoor recreation, and a thriving community at our Alameda apartments.

Dive into the Bay Area in a neighborhood that makes you feel right at home. Panomar Apartments offers luxury and convenience, and it's within your means. Select from our fully-renovated 1 bedroom apartments in Alameda and 2 bedroom apartments and 3 bedroom apartments. With fully styled high-end finishes you'd expect to see in a boutique hotel, our apartments near Alameda have the features that you want. If your balcony doesn't invite your eyes to see things differently, the floor-to-ceiling windows will. Let us prove it to you by scheduling a tour of Panomar today.
About
1, 2, and 3 Bedroom
Starting at $2550
Address
1100 Pacific Marina
Alameda, California, 94501
Contact
(510) 775-1715
panomar@amcllc.net
Floorplan
SQ Feet
Bed/Bath
Price
MT DIABLO
650 - 700
1 Bed
1 Bath
Contact Us for More Details
See Website
SKYLINE
866
2 Bed
1 Bath
Contact Us for More Details
See Website
HARBOR
1042
2 Bed
1 Bath
Contact Us for More Details
See Website
MARINA
1050
2 Bed
2 Bath
Contact Us for More Details
See Website
SUNRISE
1170
3 Bed
2 Bath
Contact Us for More Details
See Website
See Website