950 Tennessee Condominiums
950 Tennessee Condominiums in San Francisco, CA are both a modern aesthetic and contemporary architecture while also honoring the industrial heritage of Dogpatch and the historic warehouses. These stunning homes have so many beautiful amenities to offer while being located in a thriving neighborhood. You don't want to miss out on calling this home.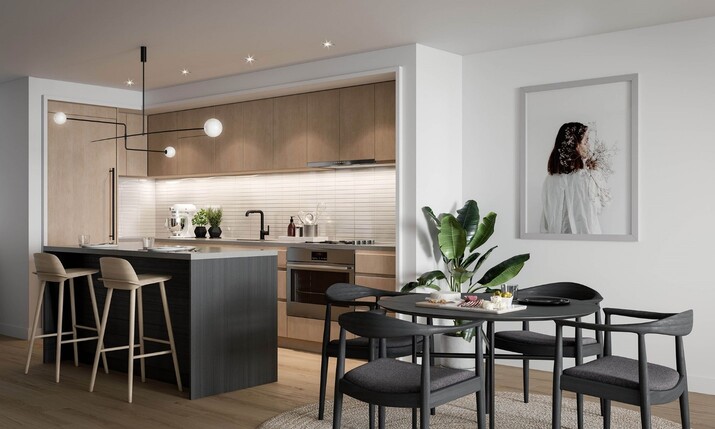 Amenities
Besides the amazing location of 950 Tennessee Condominiums, there are so many other reasons to choose this amazing community. These beautiful condominiums come in four spacious options: studio, one, two, and three bedrooms to fit all your and your family's needs. Designed to create a place of respite and serenity. Each home has been optimized to have the best lighting and functionality. The space offers wide-plank desert oak hardwood flooring and double-pane windows. The fully-equipped kitchens offer wood cabinetry with integrated lighting, Caesarstone countertop and ceramic backsplash, and stainless steel appliances.
If you're looking for community amenities, then this is the perfect place for you. When you first arrive, you'll find a gorgeous proper lobby with a signature art installation. In the center of the building, there's a communal courtyard with lush landscaping and organic nooks. At the top, you'll have access to the open-air rooftop retreat with an overlook of the city skyline, social seating areas as well as a fire pit and a dining area with grills.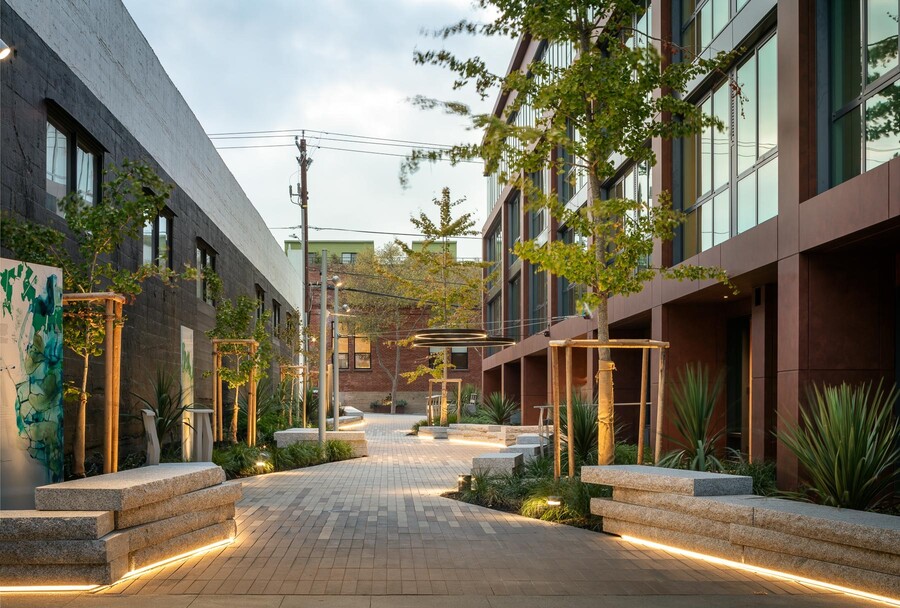 Neighborhood
This beautiful community is located in a thriving neighborhood full of local cafes, restaurants, breweries, galleries, and so much more. This area, boasting tree-lined streets, is designed to be walkable, making nearly everything easy and accessible. There's so much to offer that you won't want to miss out on. Like a gym close to home or an art gallery to mingle in on a down day. No matter what you choose to do, you'll have it nearby.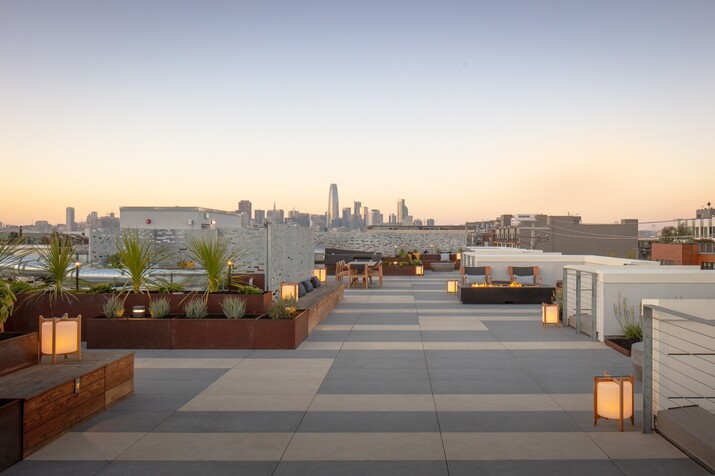 If interested in moving to the gorgeous state of California, find your next dream apartment here. While on your search for the best apartments, be sure to check out, some of the most affordable places to live in California.
950 Tennessee
Welcome to 950 Tennessee Apartments, where comfort and convenience enhance your lifestyle. Our San Francisco, CA, apartments feature everything you need to live comfortably and stylishly in a place that feels like home as soon as you walk through the door. Get a taste of the thriving neighborhood that surrounds you with easy access to a range of restaurants, stores, parks, and entertainment. At 950 Tennessee, you'll enjoy the ideal balance of outdoor adventure and modern city life. Take advantage of the city's attractions like Golden Gate National Recreation Area, Strawberry Hill, and all the fun you'll find in the Bay Area. Visit Ungrafted, La Stazione, Third Rail, or Piccino for a bite to eat, and then come home to our welcoming community. Choose 950 Tennessee for the vibrant lifestyle you've been looking for.
About
Studio, 1, 2, and 3 bedroom apartments
Call for Pricing
Address
950 Tennessee Street
San Francisco, California, 94107
Contact
415-322-9212
950tennessee@amcllc.net
Floorplan
SQ Feet
Bed/Bath
Price
1x1 722
722
1 Bed
1 Bath
Contact Us for More Details
See Website
1x1 788
788
1 Bed
1 Bath
Contact Us for More Details
See Website
1x1.5 907
907
1 Bed
1 Bath
Contact Us for More Details
See Website
1x1.5 920
920
1 Bed
1 Bath
Contact Us for More Details
See Website
1x1.5 945
945
1 Bed
1 Bath
Contact Us for More Details
See Website
1x1.5 962
962
1 Bed
1 Bath
Contact Us for More Details
See Website
2x2.5 1373
1373
2 Bed
2.5 Bath
Contact Us for More Details
See Website
2x2 973
973
2 Bed
2 Bath
Contact Us for More Details
See Website
2x2 1008
1008
2 Bed
2 Bath
Contact Us for More Details
See Website
2x2 1073
1073
2 Bed
2 Bath
Contact Us for More Details
See Website
2x2 1083
1083
2 Bed
2 Bath
Contact Us for More Details
See Website
2x2 1144
1144
2 Bed
2 Bath
Contact Us for More Details
See Website
2x2 1218
1218
2 Bed
2 Bath
Contact Us for More Details
See Website
2x2 1227
1227
2 Bed
2 Bath
Contact Us for More Details
See Website
2x2 1232
1232
2 Bed
2 Bath
Contact Us for More Details
See Website
2x2 1270
1270
2 Bed
2 Bath
Contact Us for More Details
See Website
2x2 1334
1334
2 Bed
2 Bath
Contact Us for More Details
See Website
2x2 1419
1419
2 Bed
2 Bath
Contact Us for More Details
See Website
3x2.5 1414
1414
3 Bed
2.5 Bath
Contact Us for More Details
See Website
2x2 1036
1036
2 Bed
2 Bath
Contact Us for More Details
See Website
3x2 1440
1440
3 Bed
2 Bath
Contact Us for More Details
See Website
Studio 432
432
0 Bed
1 Bath
Contact Us for More Details
See Website
Studio 438
438
0 Bed
1 Bath
Contact Us for More Details
See Website
Studio 472
472
0 Bed
1 Bath
Contact Us for More Details
See Website
See Website